Terra Hill (顶丽峰)
Across and Above the Terrain,
You'll Always See It All.
Open for immediate booking now!

Last Updated: 27th March 2023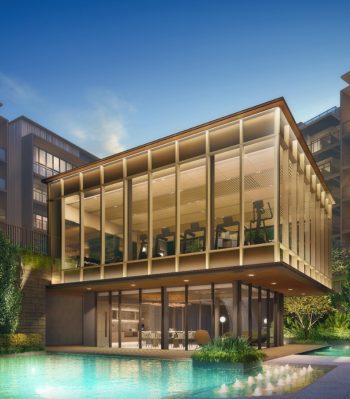 Book A Showflat Appointment With Us Now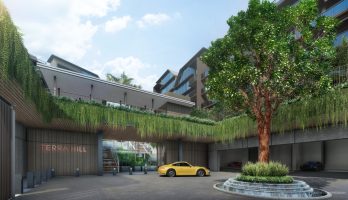 Terra Hill (Former Flynn Park) is another upcoming joint venture new launch residential project between two well-established developers; Hoi Hup Realty Pte Ltd and Sunway Group. Both developers had been in close partnership for the past twelve years and had together won numerous awards for their excellence in terms of quality and workmanship such as BCA Construction Excellence Award and FIABCI World Prix d'Excellence Awards.
Hoi Hup Realty was founded in Singapore at the year of 1983. It is an award-winning developer that had built close to 8000 top quality residential homes. 2021 is considered one of the year for Hoi Hup as it had won 4 awards in EdgeProp Singapore Excellence Awards and 3 awards in PropertyGuru Asia Property Award Singapore.
Sunway Group was based in Malaysia and incorporated since 1974. It is one of the largest real estate developer and conglomerates in South East Asia with business spanning across education, healthcare, real estate construction, hospitality as well as retail. Three of its subsidiaries are publicly-listed with a total market capitalization of RM$16 billion.
The past and present track records for both developers include Ki Residences, Royal Square at Novena, Parc Canberra, Parc Central Residences executive condominium, Rivercove Residences and Sophia Hills etc.
The former site of Terra Hill is called Flynn Park, which was sold en bloc and will consist of 270 residential units ranging from 2- to 5- bedroom and Penthouses.
Terra Hill pricing is expected to be launched at approximately $2300 psf on average.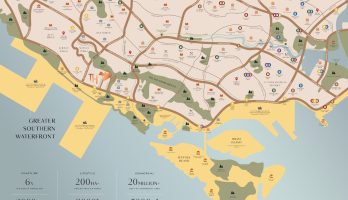 Terra Hill, which is sitting on a freehold land, is located at the quiet and serene cul-del-sac of Yew Siang Road, in Rest of Central Region (RCR) of District 5. It is only 330 meters away or less than 5 minutes' walk from Pasir Panjang MRT Station, CC 26 of Circle Line.
This prime location is situated within Greater Southern Waterfront master planning zone, which will witness great transformation in the next 15 years. In fact, since the completion of One North Business Park, Mapletree Business City 1 and 2, this locale had created plenty of job opportunities with highly-skilled workers sorting to rental apartment near to their work place, which resulted in high rental demand.
Terra Hill Singapore is easily accessible via West Coast Highway and is less than 5 minutes' drive to Ayer Rajah Expressway (AYE). Once Circle Line Extension 6 is completed in 2026, it will only take 7 and 8 stations to reach the financial district and Marina Bay Sands respectively.
In terms of amenities, Alexandra Retail Center is only one MRT station away. For your weekend retail therapy or movie nights with your love one and family, megamall VivoCity is only 3 train stations away (Harbourfront CC29) or 10 minutes' drive away from Terra Hill condo.
If you like greenery and hiking, Terra Hill is definitely your ideal adobe as Southern Ridges is situated right behind the development, which comprise 10 kilometers of trails connecting  from Kent Ridge Park to Mount Faber.
You will fall in love with new launch by exploring its nearby amenities with Terra Hill location map.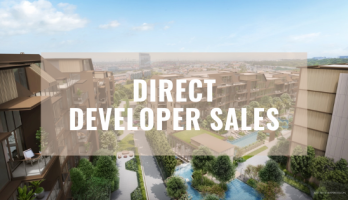 In order to view our Terra Hill showflat, all interested parties are required to book an appointment a day in advance. Due to safety measures, all walk-in will not be entertained by our security staff. In order to secure an appointment, one can either book via our online form in this official website or dial our sales hotline at +65 6100 1116.
Once an appointment had been made, our friendly and professional salesperson will contact you in less than an hour to confirm your appointment. As our Terra Hill showroom will be closed for periodic maintenance or private events organized by the developer, it is strongly advisable to book your appointment a day in advance.
Apart from enjoying direct developer price, there is NO COMMISSION payable by all buyers to our salesperson. Buying your first property can be a stressful event, rest assured that all our salespersons are trained professionally. They are ever ready to provide you with first-hand information and is able to make recommendation based on your personal needs and wants.
Terra Hill balance units chart are update periodically in this sales portal. To check out the latest availability and promotion, please call our hotline at 6100 1116 to find out more. Reservation of choice unit via phone is subject to management approval with a maximum holding period of two hours only.
After our VVIP Preview sales, the sales mode for all remaining units are on a first-come-first-buy basis. Our prices might be revised too without further notice.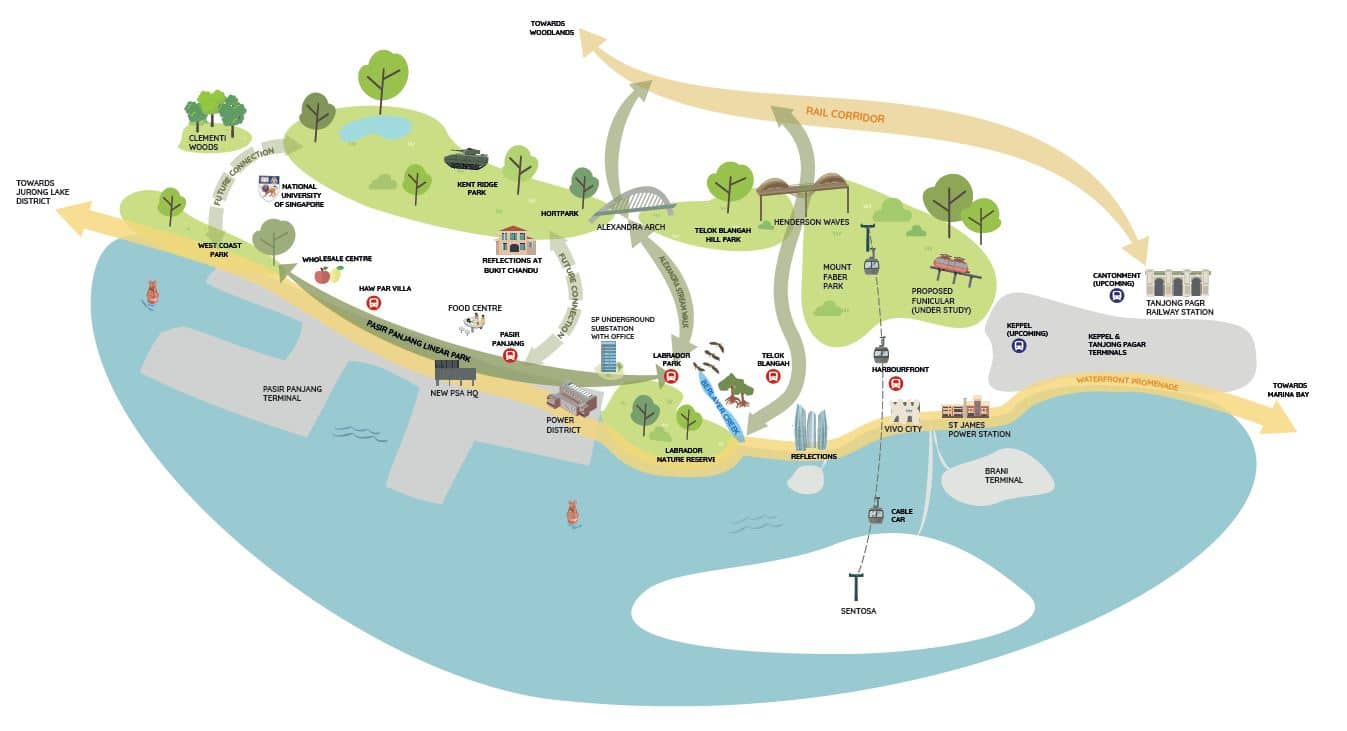 In September 2021, Hoi Hup and Sunway had successfully secured the former site of Terra Hill (Flynn Park) via a collective sale. With a winning bid of $371 million and a 7% bonus on balconies, the land cost works out to be $1,318 per square foot per plot ratio. The breakeven cost for this development is approximately $2050 psf.
Terra Hill is located in the highly sought after District 5 with huge tenant catchment where many internationally well-known companies had set up their regional headquarters in this precinct.
MapleTree Business City 1 and 2, who are the pioneer in "work and play" environment, are only one MRT station away from Terra Hill condo. Popular MNC such as Samsung, Unilever, Pfizer, HSBC as well as Google are situated here too. In addition, One-North Business Park, Science Park 1 and 2 are all within two MRT stations away from Pasir Panjang MRT station, which is approximately 330 meters from Terra Hill condo.
For greenery and nature lovers, Southern Ridges, which connects Kent Ridge Park, Telok Blangah Hill Park and Mount Faber Park into a 10 kilometers of trails, as well as Labrador Park are both within short walking distance.
Terra Hill Singapore will also stands to benefit in the near future under the transformation of Greater Southern Waterfront. It is a new major gateway to future live, work and play along Singapore's southern coast starting from Marina East to Pasir Panjang.
This transformation will be in phrases starting from Keppel Club, Mount Faber and Pasir Panjang District in the next 5 to 10 years.
Unit types in Terra Hill will start from 2-bedroom for couples to 5-bedroom and penthouses that are suitable for multi-generation living. This sprawling freehold residential development with lush greenery offers a total of 270 units over 9 blocks with each block of 5-storey high.
You can view and download our Terra Hill e-Brochure and Terra Hill Floor Plan for reference.
Unique Selling Points of Terra Hill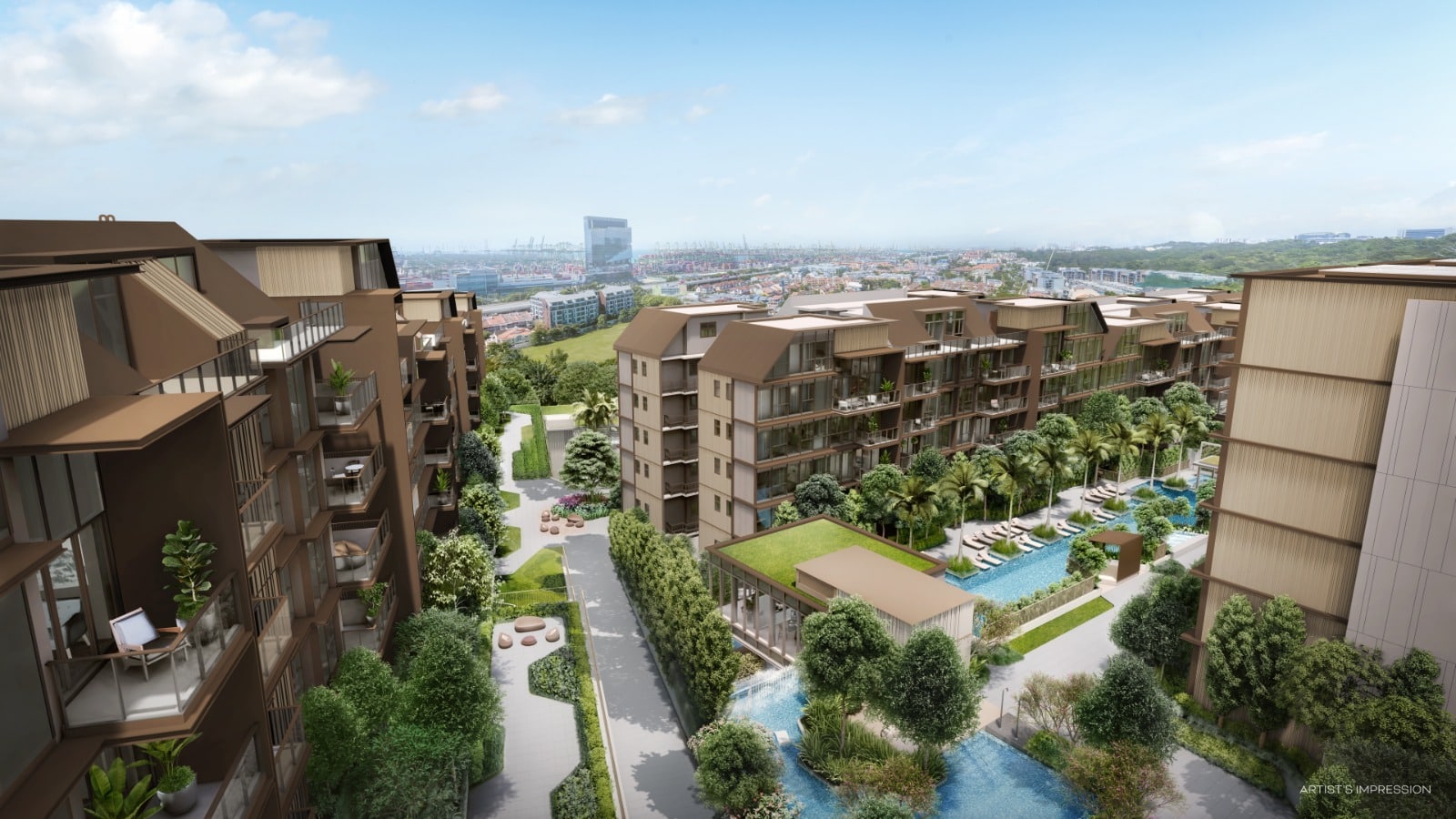 Terra Hill is a rare freehold development in land-scarce Singapore that is less than 500 meters walk to Pasir Panjang MRT Station in District 5, Rest of Central Region (RCR).
A low-rise residential new launch with spacious 2-, 3-, 4- and 5-bedroom Penthouse that is well-designed to cater for the needs of all households and investors with lush greenery landscaping sprawling across 210,000 sqft of land.
Within close proximity to large tenant catchment precinct such as One-North Business Park, Science Park 1 and 2, Alexandra Tech Park, MapleTree Business City which will benefit investors for easy exit-strategy in future.
Within short driving distance to West Coast Highway and Ayer-Rajah Expressway (AYE), which allows future residents to connect easily to Central Business District (CBD) and the rest of Singapore.

Terra Hill condo

is located within the Master Plan zoning of future Greater Southern Waterfront, which will transform the southern coast of Singapore into a major gateway for Live, Work and Play, starting from downtown Marina East to Pasir Panjang.
Only 3 MRT stations to Circle Line and North-East Line interchange (HarbourFront, CC29 | NE1), 4 stations to East-West Line and Thomson-East Coast Line (Outram Park, EW16 | NE3 | TE17), 7 stations to Marina Bay MRT interchange once Circle Line extension 6 is completed in 2026.
Short driving distance to Alexandra Retail Centre, IKEA, Holland Village and VivoCity.
Close proximity to well-known education belt with top institutions like National University of Singapore (NUS), NUS High School of Math and Science, School of Science and Technology (SST) and Singapore Polytechnic (SP).
Wide Selection of Unit Types in Terra Hill
Over the years, Hoi Hup and Sunway are renowned for building quality and functional layout that are suitable for own-stay purpose. Their relentless pursue of designing perfect floor plan that comprises of minimal wastage had gain the trust of many homebuyers.
In Terra Hill, the developers have come out with two collections of unit types; Signature Collection and Prestige Collection.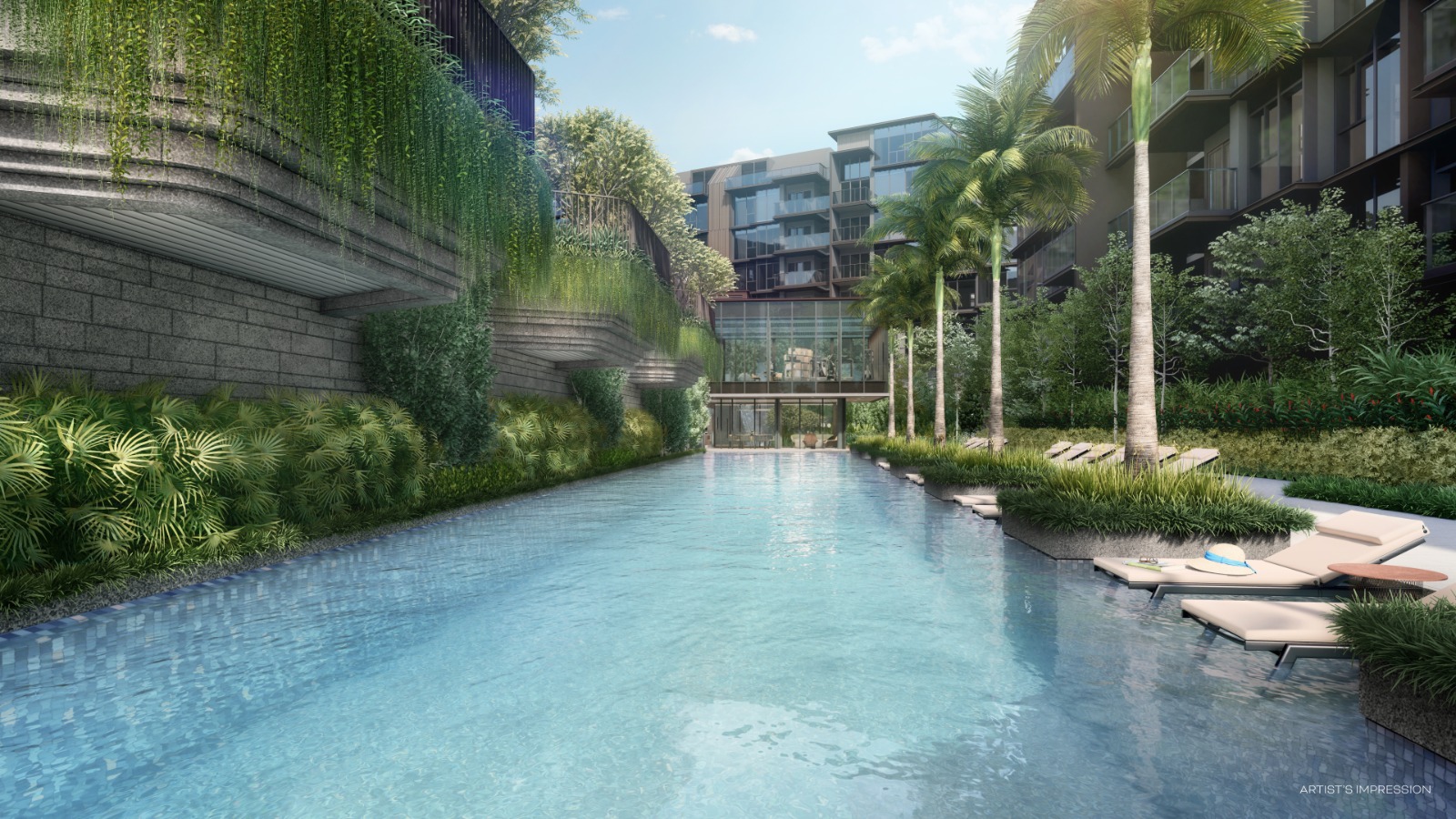 Under Signature Collection, there 5 different bedroom types. First is the ever popular 2 bedroom series with size ranging from 624 sqft to 807 sqft. There are 70 units in total.
The 624 sqft is a 2 bedroom1 bathroom layout which is very popular among investors due to its low entry level. The floor plan is of a "dumbbell" layout that is the most efficient in the market with no long walkway wastage space.
Another popular layout among young couples are the 2 bedroom 2 bathroom layout which is very suitable for own-stay purpose. It is also a "dumbbell" layout with 1 bedroom on each side and living and dining in the middle.
Lastly, for those that need more space, the 807 sqft 2+study provides an additional area for your workspace that is most suitable for work-from-home.
Next is the 3 bedroom, which consists of 108 units ranging from 904 sqft to 1098 sqft. The major difference between the these two unit types are with or without utility room and yard area. They are anticipated to be of the highest demand in Terra Hill condo.
The 904 sqft is suitable for either investors that have a better budget or small family with only 1 or 2 children. If you have a domestic helper, then probably the 3 + utility room is more suitable for you. It can also be used as a storage space.
For Signature Collection, there are 3 different types of penthouse available for consideration. They are the 3-bedroom, 4-bedroom and 4+Study penthouses with 37 units in total.
Being situated on the top (5th) floor and an elevated land, some of the penthouses are able to catch a glimpse of partial sea view from their balcony and bedrooms, which is considered rare in District 5.
Last but not least, there are 20 units of 4-bedroom available with size ranging from 1302 sqft to 1335 sqft. This unit type is suitable for mid-size family or those that require an additional room for work-from-home purpose or study room for the children.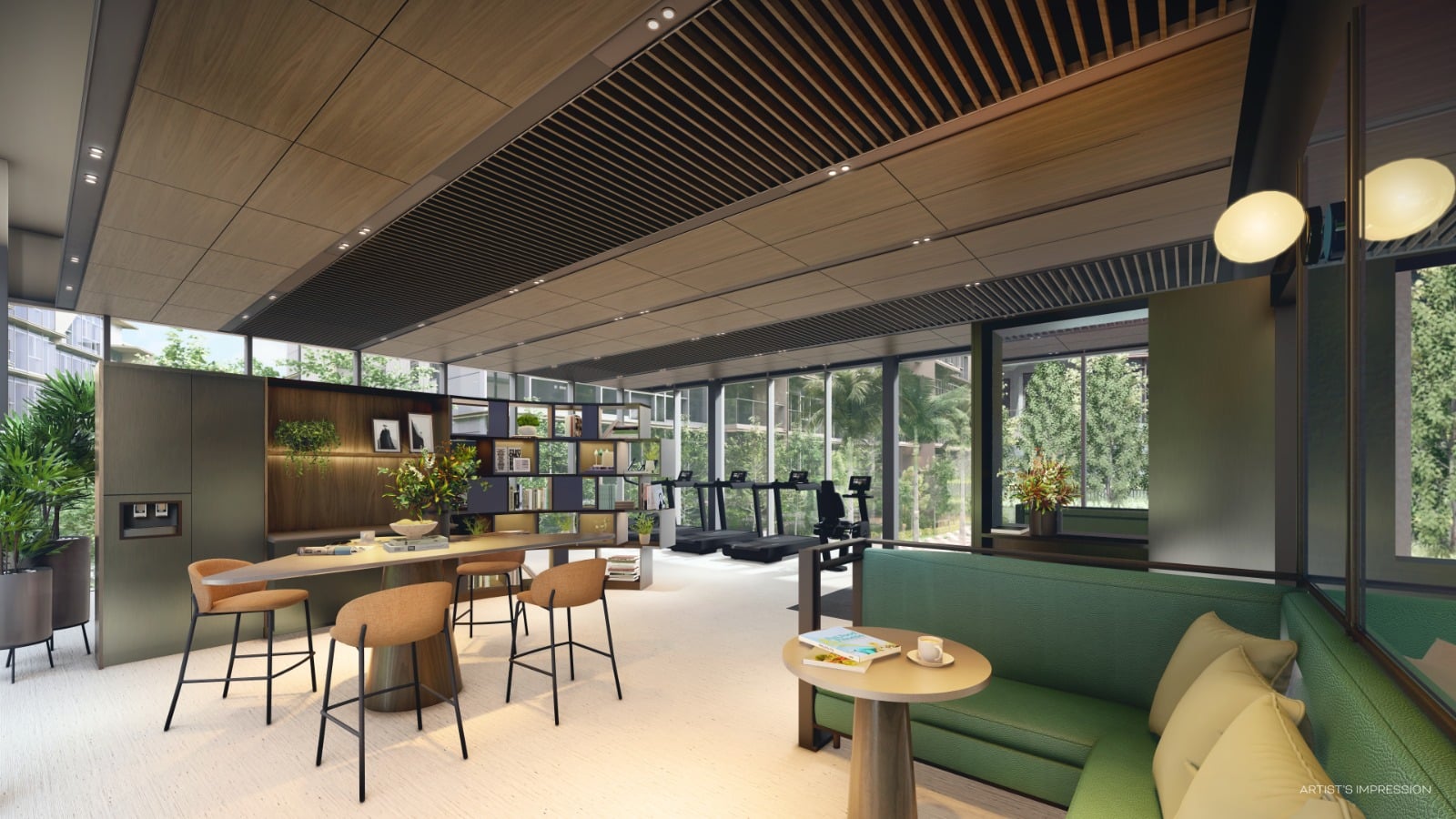 As the name implies, Prestige Collection consist of limited edition of 4-bedroom and 5-bedroom unit types that are single loading. There are only 35 units available for selection in total.
Such layout is rare in the market as it allows plenty of wind flow circulation within the apartment itself as there are no opposite neighbor at the kitchen and yard area that will obstruct the wind flow and brightness.
All units come with private lift and are fitted with high end appliances and fittings from top brands in Europe such as VZug, an luxury brand from Switzerland. You will feel the luxuriousness upon stepping into the apartment.
For the 4-bedroom, there is only one layout available and the size is 1894 sqft. Such spacious layout are rare in Rest of Central Region (RCR) new launches.
Last but not least, the ultimate luxurious of all layout in Terra Hill are the 5-bedroom penthouses. The size ranges from 2120 sqft to 3035 sqft. Such layout is extremely suitable for multi-generation living without the compromise of individual privacy.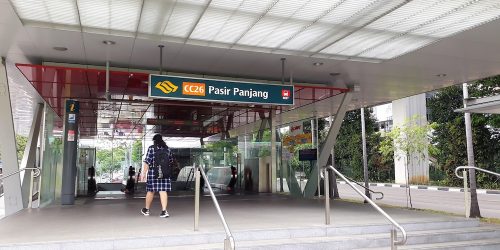 Pasir Panjang, where Terra Hill condo is located, is a neighborhood located in the southern part of Singapore. It is situated near the coast and is bordered by other neighborhoods such as Clementi, West Coast, and Bukit Merah.
Pasir Panjang is well known for the Pasir Panjang Wholesale Centre, which is a large wholesale market for fruits, vegetables, and seafood. It is one of the main suppliers of food items to supermarkets, wet markets, and restaurants in Singapore.
The area around Pasir Panjang is mostly residential, with a mix of public and private housing. It is also home to a number of educational institutions such as the National University of Singapore (NUS) and the Singapore Science Park. There are also few amenities such as supermarkets, parks, and shopping centers in the nearby area.
Pasir Panjang has a rich history and was a key location during the World War II. The British had built a number of fortifications and bunkers in the area to defend against the Japanese. Some of these structures still exist today and can be visited as part of the historical trail.
Pasir Panjang is also known for its hawker centers and eateries, which offer a diverse range of local food. The most famous is the Pasir Panjang Food Centre, which is home to some of the most popular hawker stalls in the area. Overall, Pasir Panjang is a diverse and multicultural neighborhood with a rich history and a mix of residential and commercial areas.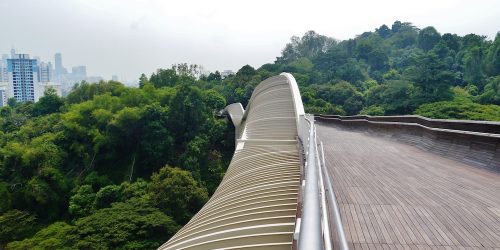 The Southern Ridges is a 10-kilometer long green corridor in Singapore that connects several parks and nature reserves in the southern part of the island. The corridor includes several popular parks such as the Mount Faber Park, Kent Ridge Park, and Telok Blangah Hill Park, as well as the popular Henderson Waves bridge, which is the highest pedestrian bridge in Singapore.
The Southern Ridges offers a wide range of activities for visitors, such as hiking, bird-watching, and picnicking. The parks that make up the Southern Ridges provide visitors with a variety of natural habitats, including secondary forests, mangroves, and coastal cliffs.
The Southern Ridges also offers visitors a chance to learn about the history and culture of Singapore, as it is home to several historical sites such as the Reflections at Bukit Chandu, a World War II interpretive center.
The Southern Ridges is also known for its scenic views of the city and the sea, and is a popular spot for photography and sightseeing. The Southern Ridges is a great place to explore the nature of Singapore and offers a perfect escape from the hustle and bustle of the city.
Future residents of Terra Hill are able to access Kent Ridge Park directly from the back gate of the development, which is link to Pepys Road.
Mapletree Business City 1 & 2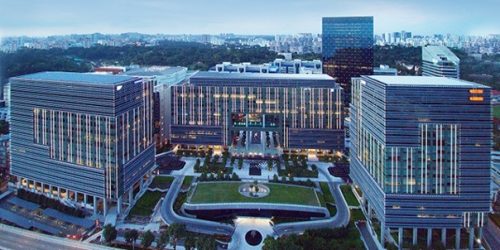 Mapletree Business City is an integrated development that offers businesses a premium work environment in the heart of Alexandra Precinct in Singapore. It is only 1 MRT station away from Terra Hill.
The complex consists of three office towers, seven business park blocks, and one retail and food & beverage cluster, providing more than 2.9 million square feet of premium office, business park, and retail space.
MBC has been designed with businesses in mind, offering a campus-style work environment that features Grade A building specifications, flexible and spacious floor plans, high-quality finishes, and cutting-edge building management systems.
With a full suite of modern facilities, including a multi-purpose hall, meeting rooms, a gym, indoor heated pool, a convenience store, childcare center, clinic, and a laundromat, MBC offers a well-rounded "work and play" environment that is ideal for companies looking to locate both their offices and back-room support functions in a single location.
The complex has been recognized for its eco-friendly design and has earned several prestigious awards both locally and internationally.
Additionally, its location offers easy access via multiple public transportation options, as well as various public spaces, a natural landscape, an eco-pond, a natural landscape, and art installations. These features make Mapletree Business City an attractive and accessible location for modern businesses.
In conclusion, Mapletree Business City is a state-of-the-art commercial development that provides businesses with a modern, flexible, and sustainable work environment in a convenient location.
With its campus-style design, comprehensive facilities and services, and eco-friendly features, MBC is a popular destination for businesses seeking premium office space in Singapore.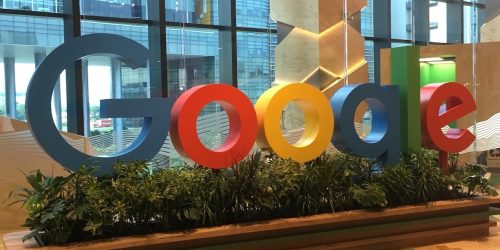 Google's headquarters in Singapore, also known as the Google Asia Pacific (APAC) headquarters, is located in the Pasir Panjang area of Singapore and one train station away from Terra Hill. Established in 2007, the facility serves as a hub for Google's operations in the Asia-Pacific region, encompassing countries such as India, Australia, and South Korea.
The Google APAC headquarters in Singapore is a modern and innovative facility that supports Google's mission of organizing the world's information and making it universally accessible and useful. The office features open workspaces, natural light, and a focus on sustainability, reflecting the company's commitment to creating a positive and supportive workplace environment.
The facility serves as a hub for various teams within Google, including sales, marketing, and engineering. It also provides space for events, such as product launches and developer conferences, which bring together experts from across the region.
Google's presence in Singapore has had a positive impact on the local economy, creating jobs and driving innovation. The company is known for its supportive and inclusive workplace culture, and has become a sought-after employer for talented professionals in the country.
Overall, Google's headquarters in Singapore represents the company's commitment to the Asia-Pacific region and its continued growth in the area. The facility is a testament to Google's innovative spirit and its focus on creating a positive impact in the communities where it operates.